BLACK MESA

BED & BREAKFAST
KENTON, OK
Monty Joe & Vicki Roberts, Owners
When Horace Greeley penned his famous, "Go west young man," it is unclear to which part of the west he was referring.
If he had traveled the Santa Fe Trail and taken the Cimarron Cut-Off, it is certain he was awed by the same sights that await you.
Rising above the horizon, the Black Mesa stands majestically as the highest point in Oklahoma. With an elevation of 4,973', at the high point monument lures hikers from all over the world.
Days of adventure are capped off with spectacular sunsets and enjoyable conversation at Black Mesa Bed & Breakfast.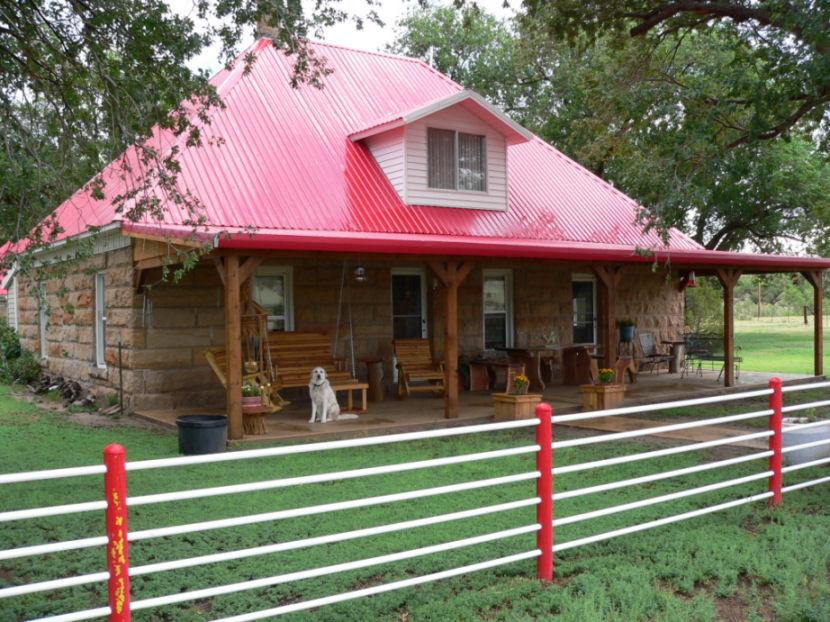 Visitors to the northwest corner of the Oklahoma panhandle can spend days exploring the rugged hillsides and evenings in the comfort of a home away from home. Located two mile north of Kenton, near the base of magnificent Black Mesa, this 1910 native rock ranch house boast the best in the country hospitality.
The Roberts Ranch, a working cattle ranch, originates at the eastern point of Black Mesa and spreads to the south and east along the Cimarron River (Directions). Monty Joe and Vicki Roberts serve as your host. Accommodations include a ground level double occupancy room, a second story suite that sleeps 8, a bunkhouse with two separate rooms that sleep 4 each, and an upper room that may sleep 2 making Black Mesa Bed & Breakfast an ideal headquarters for small groups. Children are welcome.
Whatever your interest; hiking, rock hounding, history, fishing, hunting, birding, astronomy or just the desire to escape from your daily routine, the Black Mesa area will surpass all your expectations. Often referred to as, "OKLAHOMA'S BEST KEPT SECRET ," the Dry Cimarron Valley is one of the most unique areas in the world.

These are some of the sights and destinations around the area: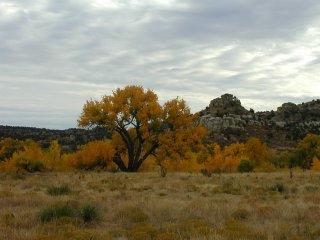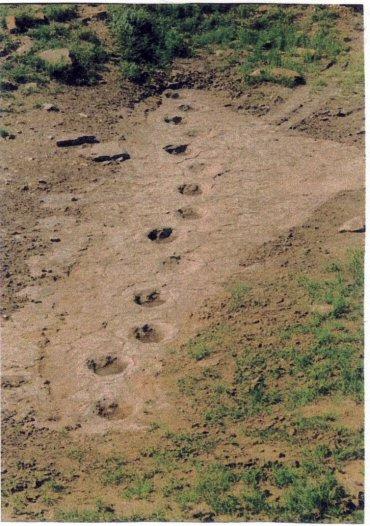 Black Mesa Summit Trail Map (click for PDF)
These are the accommodations you may choose from:
| | | |
| --- | --- | --- |
| | | |
| The Living Room (for sittin' a spell) | The Upstairs Family Suite | The Double Occupancy Downstairs Room |
| | | |
| | | |
| The Bunkhouse | Bunkhouse Room 1 | Bunkhouse Room 2 |
| | | Book a night or a week! Quickly! |
| The Upper Room | The Upper Room Interior | |
[ Three Sisters ] [ 3 State Marker ] [ Night Time at the Ranch House ] [ Rainbow ] [ Black Mesa in the snow ] [ High Point Monument ] [ Old Maid ] [ Wedding Cake ] [ Sunset ] [ Fall Colors ] [ Storm ] [ Dino Tracks ] [ Living Room ] [ Family Suite ] [ Double Downstairs ] [ Bunkhouse 1 ] [ Bunkhouse 2 ] [Upper Room] [Upper Room Inside]
---
Rates: Single Single $50.00/night Couples $80.00 Group Rates Available

All nights include country breakfast.

FREE Wireless Internet in all rooms: Wireless 802.11b&g.
All rooms include heating and air conditioning.
Children and pets are welcome. (There is a $10/pet one time charge.)
Sprint cell service is reliably available in the area.
We are removed from the cares of the world - no local gas service is available.
Few places in the United States feature a sky as dark, dry, and clear as at Black Mesa Oklahoma.
See the Oki Tex Star Party.
An 8" Meade Newtonian Telescope will be available for nightly rent ($30/night).
Bring your own (1.25") eyepieces or use the low power and 'zoom' (medium to high) power eyepieces available. Ask for availability at time of reservation. Currently being upgraded, will be available after mid-Dec 2013.
Major Credit Cards Accepted

---
No Smoking Please
---
How to Find Us
BLACK MESA B&B
P.O. Box 81
Kenton, OK 73946
1-800-821-7204 or 1-580-261-7443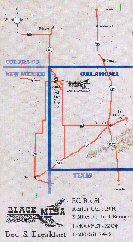 or
View Larger Map
DIRECTIONS

BMBB1@juno.com
---
Links to Local Information:
The Oklahoma Wildlife & Prairie Heritage Alliance
The Great Plains Trail Website
Black Mesa State Park and Nature Preserve
---
Check the box to the right for more details on our newest visits since 2003!

We saw 5460 web visitors between Sept 22, 1997 and May 1, 2003.
This sight to look best using:

or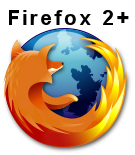 This Page Last Updated : August 20, 2013
This site is managed and updated by the webmaster: John Ensworth